Who We Are

Orleans International is the #1 provider of high quality imported and domestic meats and meat by-products in the U.S. Our commitment to provide top service and quality products begins with our long-standing relationships with overseas and domestic packers. This commitment carries through to our dedication to our customers.
We are a family-owned and operated business originally created four generations ago in the historic Eastern Market of Detroit. Our sales staff has over 400 years of cumulative experience in the meat industry. The two-way loyalty bred between the Tushman family and our long-serving sales staff also extends to our customers. We count among our valued customers some of the biggest names in the food industry, many of whom have been with us for decades.
Commitment to Excellence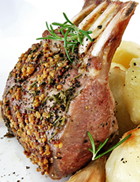 Through many years of hard work and dedication, our commitment to practicing accountability, credibility, honesty, integrity, and respect has paid off in relationships with our trade partners. Our family name is very important to us, and each generation has followed our passionate, proud, and strong work ethic. We view our suppliers and customers as invaluable trade partners that complete us. We will always strive to earn our partner's respect.
We are experts in the importing and trading of global manufacturing proteins. We provide risk management models to assist in the processing and distribution in the supply food chain. We also provide liquidity and robust logistical support to assist our trade partners. We accomplish these goals by streamlining operations and managing costs through economies of scale and just in time delivery. Our inventory volumes provide mutually beneficial arbitrage opportunities in order to assist raw materials inventory and balance sheets.